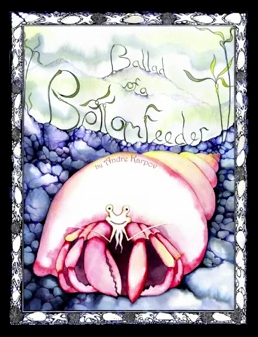 The Varshavsky family will match all donations made through Wednesday this week up to $500. Help Andre get to $2260 and we'll double your money.
UPDATE: Andre raised over $800 in one day on Monday. Thank you to all who helped him meet the challenge. He still needs to hit $5000 in the next few weeks. Click on the panel on the right or here to donate.
Andre Karpov was one of the first artists I met in the Mission. It was my second night out in the city. Before that I had only known San Francisco as Pier 39, Golden Gate Bridge, Tenderloin, and City College. We stopped by Pizzeria Delfina where Andre was working on a mural. Soon after I saw his band Karpov. It featured Aaron Novik on bass clarinet and Joe Lewis on bass (both musicians would later record for our label). If you've ever been to Amnesia, you've probably seen Karpov's work – the backlit painting of Rob Reich above the door is his, the sign that graced Amnesia for many years was painted by him and so was a large mural on the wall of Range restaurant across the street "Compassion Lives Here".
Nowadays Andre splits his time between Sebastopol and San Francisco writing songs, working on illustrations and animation. His most recent project is a children's book "The Ballad of a Bottom Feeder". It is a love story that takes place on the bottom of the ocean between a Hermit Crab and a Sea Anemone. Their courtship is based on an actual occurrence in nature known as a symbiotic relationship.
In his own words:
I first came upon this example of symbiosis while visiting the Academy of Sciences in San Francisco. I was fascinated by the idea that members of two different biological species could bond and live together while helping in each others' survival. I extensively researched this and gathered much inspiration while living and working on the coast of Northern California. I wrote a 24-page children's story and illustrated it with pen & ink and watercolor. With your help, this book can be published! Some of the Illustrations and story can be viewed below.