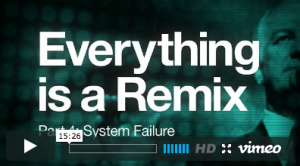 Everything is a Remix Part 4: System Failure came out two days ago. It is the conclusion of a series of viral video essays about spread of ideas, intellectual property, and invention, produced by Kerby Ferguson with a handful of collaborators. They are wonderfully produced and are a very welcome addition to the discourse about copyright, piracy, and getting paid for creative work. This one might be the least entertaining of the bunch, but it is just as interesting. In retrospect it seems part 4 was the thesis all along, and the first three videos served to captivate the audience and prepare the argument.
The first three parts (watch them here):
Music: Led Zeppelin stole from Howlin' Wolf, Willie Dixon, Jake Holmes or Bert Jansch. William Burroughs, Enigma, Eminem…
Movies: John Ford -> Akira Kurosawa -> George Lucas; Kill Bill, Carrie, Citizen Kane, and Tarantino…
Invention and creation: James Watt (like the physical unit), Thomas Edison, Picasso, Apple, Xerox, Internet…
NPR? NYT? Nat Geo?
Fifteen or even ten years ago most people looking to create editorial media and earn a living doing that wanted to be at New York Times, This American Life, National Geographic, PBS or a number of other outlets which would help them reach a massive audience and lend their voice an air of authority and trust. They would start as interns, move up to produce short pieces and with much work and luck would become staff. The product of their work would belong to their employer, most of the audience loyalty they generated would stay with their employer, and they could be fired any day. Kerby posted the first video in this series a year ago. Now he is raising $48000 for his next project. I think he's going to make it. He owns his work, he is connected with his audience, and with this portfolio he can either search for employment, or continue creating media independently. I hope he picks the latter, as it'll make my point stronger: the modern creator of media has all the tools necessary to create, broadcast and monetize their work without relying on tastemakers and established channels. It seems more gratifying and fruitful to find ways to create work that builds an audience and create your own connection with them than to spend the same effort and time on being picked up by news media, blogs and tastemakers who will tell your story. Unfortunately this is still the model for many artists – trusting in publicity to generate demand.
Kerby Ferguson is 4 years old.
If you look at Kerby's Vimeo page, you'll see that he posted his first video 4 years ago. In the next three years he posted some random quick video essays on fag bombs, America's love for lists, Trajan font in movie design, Iron Man dance etc. Some interesting, some less so, but it shows that he's put in his 10,000 hours, refined his style and looked for his message. If you are an artist or producer of creative work and are looking for a way to use the internet to find your audience, you have to start now and not expect success and recognition immediately. The only way you'll learn the ropes is by doing it, finding what doesn't work and getting better. Creating work that is noticed is more fun than making unrequited art. Promotion needs to be done with fun and abandon, but that's for another post.
P.S. I thought the word meme was of the internet age. While looking stuff up for this post, I found that it was coined in 1976 by British evolutionary biologist Richard Dawkins to compare the spread of ideas to how genes work.
P.P.S. Kerby meticulously acknowledged every bit of borrowed music, film, photography any other media on his blog. There's a lot of great stuff on his website.