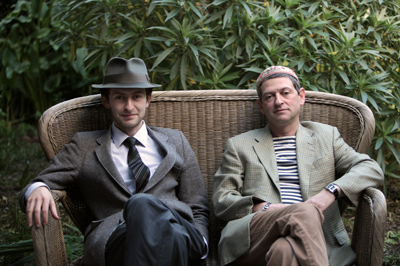 Porto Franco Records was founded by a father-and-son team of Sergei and Peter Varshavsky in January 2009. We set out to support the wonderful and eclectic music scene of Mission District of San Francisco and greater Bay Area.
At the beginning we came up with a set of rules by which we'd operate:
Non-exclusive contracts. This means that artists are not required to sign with us for multiple albums, but can choose to leave after putting out one album.
High royalties. After the expenses of making and marketing an album have been recouped, we pay 60% of the revenue to artist.
Variety. Instead of working with artists who belong to one niche, we decided to work with a variety of genres to represent the San Francisco creative community as well as possible.
We also set some big goals:
To make San Francisco a musical destination. People go to New Orleans or New York for jazz, to Chicago for blues, to Nashville for country music. We think San Francisco is a strong rival to these scenes and we wanted to help prove it.
To help artists make more of their living from music by taking care of the business side of music business for them.
In 2011 we realized that with these goals our chances of creating a financially sustainable business were small. Our belief in the artistic quality of the music we've been working with remained as strong as ever, but we could not find a way to market a very eclectic group of artists, often in non-commercial or even undefinable genres. Around the same time we started a YouTube video series Porto Franco Files that we produce entirely in-house. The series has so far generated over 1,100,000 views. Inspired by the early success of the series, we are now looking to develop the Porto Franco Files and find other ways to promote music that do not require financial backing.
Stay tuned.