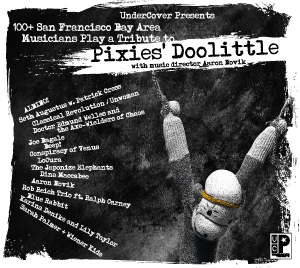 Personnel:

Debaser

:

ALBINO! Michael Bello, Patrick Byers, Chris Brown, Cal Reichenbach, Kim Agnew, Patricio Angulo, Aaron Bortz, Terry Branam, Adam Willumsen, Charith Premawardhana, Erica Mulkey)

Tame

:

Seth Augustus, Patrick Cress

Wave of Mutilation

:

Classical Revolution w. Unwoman (Charith Premawardhana, Erica "Unwoman" Mulkey, Feliz Macnee)

I Bleed

:

Doctor Edmund Welles and the Axe-Wielders of Chaos (Cornelius Boots, Wes Anderson, Eugene Jun, Penelope Allman, Aaron Novik, Cory Wright, Jeff Anderle

Here Comes Your Man

:

Joe Bagale

Dead

:

Beep! (Michael Coleman, Nathaniel Brenner, Sam Ospovat

Monkey Gone to Heaven

:

Conspiracy of Venus Choir

Mr. Grieves

:

LoCura (Kata Miletich, Bob Sanders, Brandi Brandes, Danny Cao, Isaac Weiser, Stephanie Narvaez, Valentino Pellizzer)

Crackity Jones

:

The Japonize Elephants (Sylvain Carton, David Gantz, Michael Mellender, Dina Maccabee, Marié Abe

La La Love You

:

Dina Maccabee with Michael Mellender and Erik Pearson

No. 13 Baby

:

Aaron Novik with Dominique Leone, Karina Denike, Melody Ferris, Bill Wolter, Charith Premawardhana, Jordan Glenn

There Goes my Gun

:

Rob Reich Trio with Ralph Carney and Sam Ospovat

Hey

:

Blue Rabbit (Heather Anderson, Sarah Rocklin, Arami Reyes, Kevin Weber, Adam Willumsen, Adaiha Macadam-Somer, Eah Herren, Kirk Hamilton)

Silver

:

Karina Denike and Lily Taylor with Daniel Fabricant, Eric Garland, James Frazier

Gouge Away

:

Sarah Palmer and Wiener Kids (Jordan Glenn, Cory Wright, Aram Shelton)
Credits:
Guest music director Aaron Novik. Produced by Yosh! at Faultline Studios, San Francisco. Engineering, production, mixing and mastering by Yosh! and Preston Havill, except track 5 recorded and mixed by Joe Bagale, track 2 recorded by Seth Augustus. Executive producers Lyz Luke and Peter Varshavsky. Design by Peter Varshavsky and Tyler Matthew. Back cover photograph by Michel Hulsey.