Mitch Marcus Quintet
Bicoastal since his move to New York, Mitch Marcus has had a high profile on the fertile San Francisco Bay Area jazz scene for years as an aggressive, tuneful saxophonist and daring composer, and as leader of the Mitch Marcus Quintet (mmq), featuring Marcus' longtime musical partner, alto saxophonist Sylvain Carton, he has poured out edgy, intricate, yet always compelling jazz music without letup. The band also features guitarist Mike Abraham, bassist George Ban-Weiss, and drummer Tomas Fujiwara.
In 2005, the San Francisco Chronicle called mmq "one of the Bay Area's most riotously swinging young jazz groups," and two years later noted that "among the most provocative of Bay Area ensembles is a quintet known for its discipline, range and willingness to defy time signatures and test harmonies." In 2007, the group was voted San Francisco's Best Jazz Band in SF Weekly's annual readers' poll.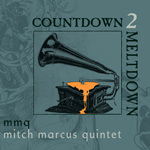 Countdown 2 Meltdown
 (2010)